Introducing the New QPLIX Wealth App for iOS and Android Phones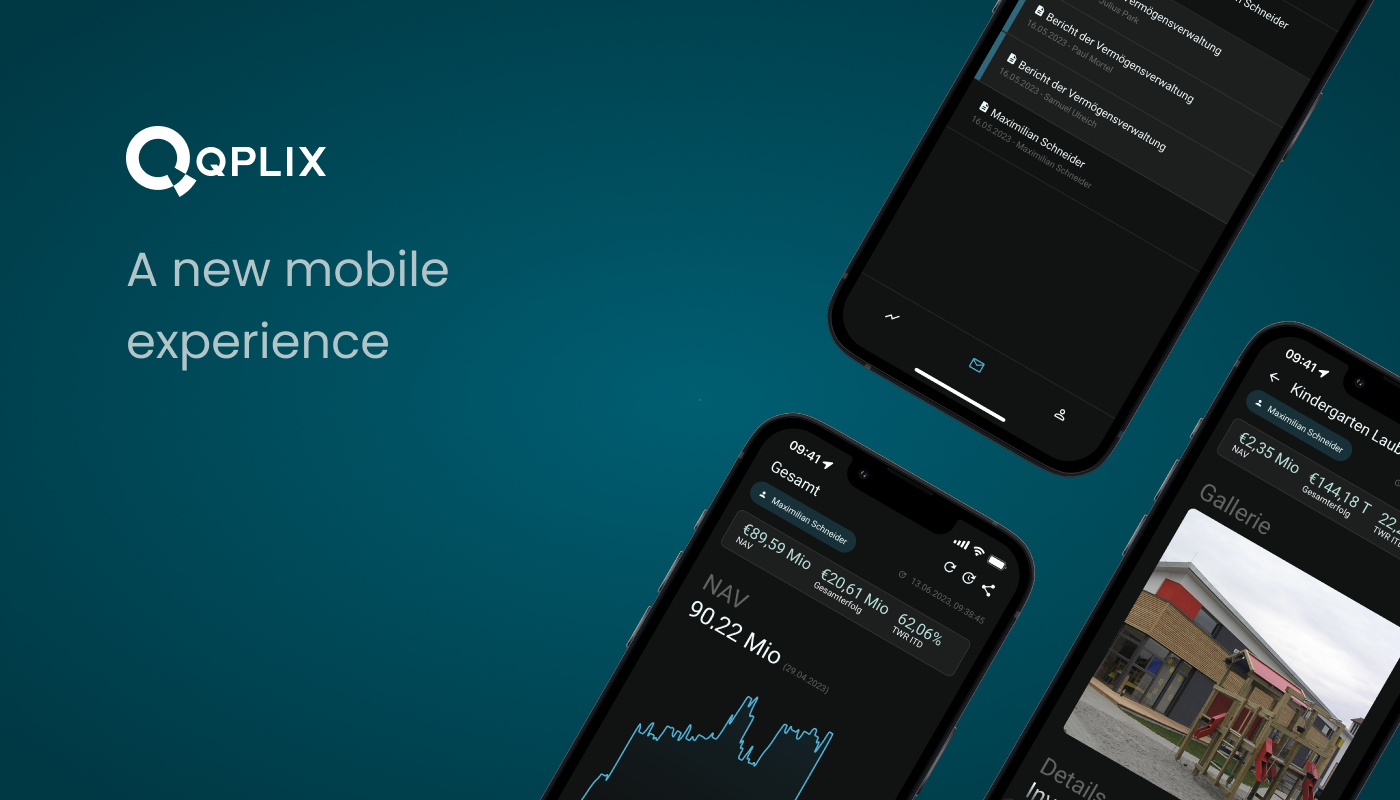 We are thrilled to introduce the brand new QPLIX Wealth app. With the new app for iOS and Android, we are realising the idea of "Your Wealth in Your Pocket" with even more functions, a fresh design and easier navigation.
Our ambition is to not only be the top choice for wealth management professionals but also bring the best experience to their clients. The QPLIX Wealth App offers a modern customer experience for wealth owners and clients of family offices, independent wealth managers, and private banks. Now, they can enjoy a feature-rich, user-friendly, secure, and concise way to gain a holistic and detailed view of their wealth.
For those familiar with our previous mobile offerings, this represents a new and contemporary look and feel. We have redesigned the user interfaces, incorporating new features and lessons learned from the previous version. The mobile app grants users access to much of the information and features available on the QPLIX web portal.
Creating this new mobile experience required immense dedication from our team. We poured our heart and soul into it, and we are extremely excited to contribute to the new era of the wealth management industry.
Everything at Your Fingertips
We have adjusted the content to ensure legibility and a welcoming atmosphere, even with limited space. Our focus is on providing the most important information, allowing you to stay up-to-date at a glance. The app now boasts a more minimalist and sleek design, providing a modern experience.
With the new bottom navigation bar, you can easily switch between the most critical sections of the app: Your assets, reports, and profile settings. Just above it, our new navigation sheet simplifies browsing through your assets. You can see the big picture or drill down to specific details effortlessly.
Access your reports wherever you are, thanks to our mobile viewing feature. All your reports are available at your fingertips, enabling you to stay informed and make informed decisions.
Customize the app according to your preferences. Many of the views can be adjusted to meet your requirements and those of your customers.
The new QPLIX app is now available on the Apple App Store and the Google Play Store.
We have an exciting roadmap ahead to provide you with the best-in-class experience. Whitelabeling the QPLIX Wealth App is one of our priorities, allowing wealth managers to align the app design with their corporate identity.
To strengthen customer relations and improve personal service, we plan to introduce more mobile functionalities for wealth management professionals. Relationship managers can already use the mobile app to address clients' inquiries on the go. With what we call "wealth manager in your pocket", they will soon have a communication module that facilitates sharing of information and visualised wealth analysis on the go.
As always, we value your feedback. If you have any suggestions or encounter any issues, please don't hesitate to reach out. We are eagerly looking forward to hearing from you!